Posts Tagged 'Ka-Blam Printer'
We have two new releases for print. For those that keep asking about how to get a physical copy of our comics- we have dropped The special Redux version of Season I's main story arc. It's a digital remastering of the big one that started it all. The HUGE Season IV book is ready for your trade-traditional tactile tendencies.
The Destruction Of Redder Coltrane Force Six 50th
Magazine Sized Trade Paperback Full Color Page Count: 172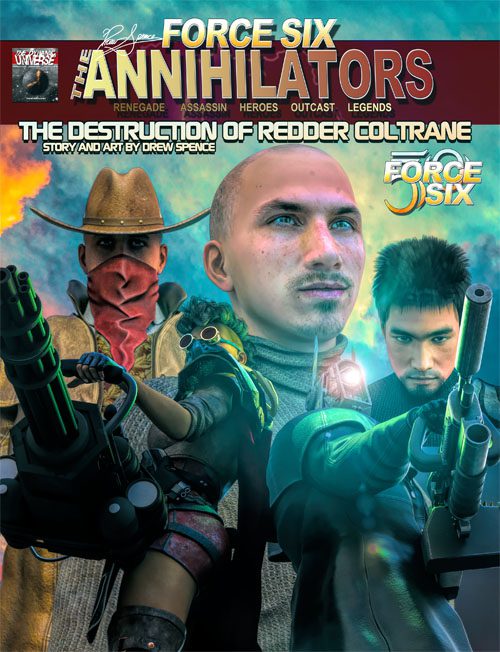 The Destruction of Redder Coltrane Force Six 50th Redux – The first story arc on the Force Six series is reduxed for the 50th episode celebration. Force Six member Jackie-5 and her partner, the Beta One asset, are sent to the planet Fronterra to terminate the war criminal Tiber HenGemon. When the work order gets expanded, more Annihilators are called in to…annihilate. The Destruction of Redder Coltrane presents a collected packaging of season I, the main story arc. We see Jackie-Five, Fire Destiny and Kojin Ahsaguri confronting Redder Coltrane and his band of criminal outlaws. When the smoke clears, you'll be fully clear on what it means to be an Annihilator.
Magazine Sized Trade Paperback Full Color
Page Count: 648 Print-on-Demand ($89.95)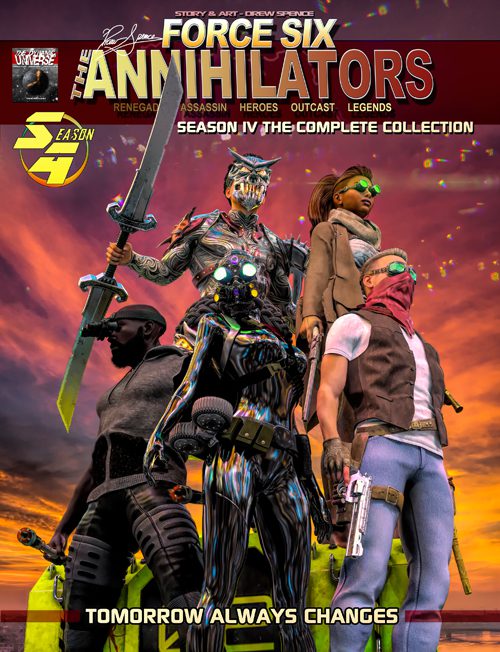 Season IV The Complete Collection Tomorrow Always Changes Episodes 32 through 48 are combined into a massive collection. Some memories should never fade. If a yesterday could determine who I am, then it must be said that my today could determine who I will be -tomorrow. The Drew Spence Force Six Annihilator series reaches its 4th season as we explore themes, thoughts and temperaments. The story of the future-retro action mercenary squad continues. The story arcs in this collection include Kat and Mouse, Remember to Forget You, Lost Train of Thought, Spirit of the Invincible and The Dragon and the Doll.
Curious to what the hype is about? Read a free book and see for yourself.
Force Six The Annihilators by Drew Spence- The Destruction of Redder Coltrane 50Th Celebration Redux Version. (still free to read since this free-thing is working so well)
The full series is available on comiXology. Individual episodes, collections (like a graphic novel or trade) and full seasons.
Want a physical copy to hold in your hands? Our books are available in print. IndyPlanet.com -with high-quality, deluxe format printing by Ka-Blam.
Like what we do and want to see The Dynamic Universe expand?
Share, like, comment and engage! Join the Patreon and get all the comics free and more, like wallpapers and such.
https://www.instagram.com/dynamicamusic/
Force Six, The Annihilators
This is the complete Holidaze Halloween Special 2017. Annihilators Jackie-5 and LunStar-G investigate a communication blackout at a secret research base. The frightful findings finds the Force Six face to face with an infected force.
Story and Art by Drew Spence.
Buy the Holidaze Collected book here for only $5.99
!!! Also available in PRINT !!!   62 Pages, Full Color, Deluxe Print Format
It's All Hallows' Eve and a blood bath morning. It's a muzzle flash fright fest as Force Six members Jackie-5 and LunStar-G investigate a secret research facility that has gone silent. Expect a bounty of Big Bold Bloody beats and thumpy bumpers going bump in the night as Fallout Shelter delivers a dastardly dash sinister soundtrack of musical mayhem for a murderous mix. Special appearance by Lenzmen #4, Earthadox with the instrumental  "I Don't Know This Guy's a New Breed"
Watch the special 360 Video for this release from The Dynamic Universe on Facebook.
————————–
Who and What?
They were a team of specialists assembled to bring order to a chaotic universe. Something went wrong when right became their final choice. See the transformation from Renegade outcasts to Legends. They are Force Six, The Annihilators. Story & art by Drew Spence.
We are The Dynamic Universe. We create graphic comics. They sit between traditional strips and a 3-D style of photorealistic drama. Enjoy the science-fantasy action adventure with terrific tints, great graphics and compelling story-telling. Read the comic and enjoy the soundtrack. Story and art by Drew Spence.
Categories:

ComiXology, Drew Spence (graphic Comics), Dynamica Comics, Fallout Shelter - music group, Force Six, Annihilators, News
3D Comics, Art, AVXP, Beta Two, Bloodbath on my hands, CGI Comic Book, comic books, ComiXology, drew spence, Dynamic Comics, earthadox, Fallout Shelter, Force Six, Graphic Comic, graphic novel, griffin avid, Halloween, Holidaze, Jackie 5, Ka-Blam Printer, Lenzmen4, LunStar-G, science fantasy, science fiction, The Annihilators, the dynamic universe